Follow @lokakshema_hari
Tweet
Charm of Charity
A poor young man was helpless, homeless and hopeless. He lost his job and had no one to help him. Depressed and dejected, he decided to commit suicide. He collected all the coins he had with him and bought from a shop a ripe banana wrapped in an old newspaper. He opened the packet and started to eat his last food when an old beggar approached him. With trembling lips, the beggar told him that he has not had anything to eat for several days and was too weak to walk.
The young man felt pity and gave the banana to the beggar. He ate it with great joy and thanked him. While leaving, the beggar gave him a very old coin, saying, "Thank you very much. You gave me everything you had. Kindly accept this coin as my humble gift."
When the old man departed, he carelessly glanced at the piece of paper used to wrap the fruit. There he saw an advertisement from an agency dealing with old coins. Any one possessing old coins was invited to visit the agency and receive suitable price for their old coins on the spot. Out of simple curiosity, he carried the coin to the agency, which was quite close to him. He showed the coin gifted by the beggar.
The person managing the agency stared at it and exclaimed in excitement, "What a surprise! It is very rare and several centuries old. It is worth a fortune!" He was given a hefty sum of money as the price of the rare coin. Jumping with joy on receiving the unexpected amount of money, he searched everywhere to find the old man who gifted him the coin. He wanted to share his joy and the money with the beggar. But he could not find the beggar anywhere. He started a new life with renewed hope and enthusiasm.
Kindness cannot be given away. It always comes back!
SarvE bhavanthu sukhinah sarvE santhu niraamayaah
Sarve bhadrANi pasyanthu maa kaschit duhkhabhAg bhavEt.
__._,_.___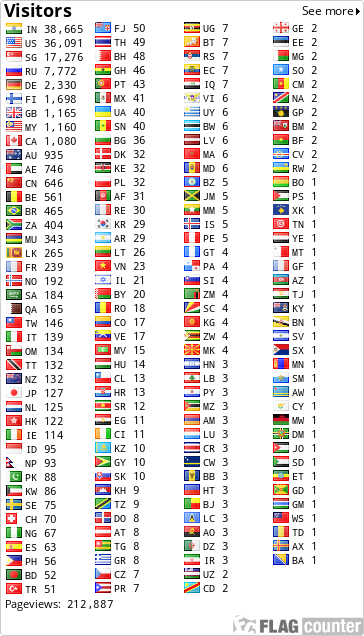 free counters
Tweet
Flixxy!
Visit My Website
Subscribe box for your web page Google Groups Subscribe to LOKAKSHEMA TRUST Email: Visit this group
Click to join lokakshema


Powered byIP2Location.com
Submit link http://picasaweb.google.com/lh/photo/60zW28Bt0yMKF4esQAoxlg?feat=directlink>
website counter

Inspirational Quotes [URL=http://travel.webshots.com/album/235131548KwTcMk][IMG]http://thumb8.webshots.net/t/20/20/3/19/32/235131932tzJfHq_th.jpg[/IMG][/URL] Embed as slideshow in MySpace, your blog or website Post as thumbnail in MySpace, your blog or website Post in a forum Search Engine Submission - AddMe http://www.hindujagruti.org/hinduism/knowledge/category/index.php http://www.hindujagruti.org/hinduism/knowledge/category/shraddha

http://www.p4panorama.com/panosnew/ mookambika_ temple/saraswa.html http://www.stilltasty.com/ http://lokakshema.webduniya.com Royal National London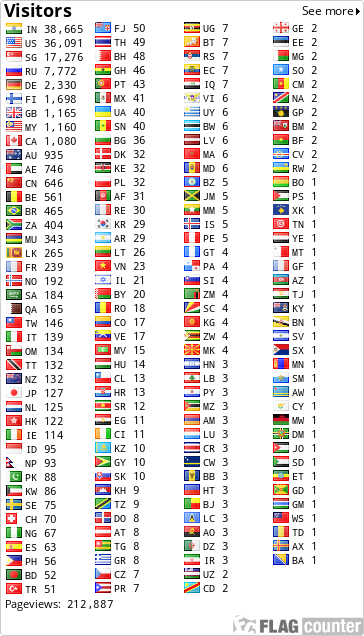 Tweet
Flixxy!
Visit My Website
Subscribe box for your web page Google Groups Subscribe to LOKAKSHEMA TRUST Email: Visit this group
Click to join lokakshema
Submit link http://picasaweb.google.com/lh/photo/60zW28Bt0yMKF4esQAoxlg?feat=directlink
website counter

Inspirational Quotes Search Engine Submission - AddMe http://www.hindujagruti.org/hinduism/knowledge/category/index.php http://www.hindujagruti.org/hinduism/knowledge/category/shraddha

http://www.p4panorama.com/panosnew/ mookambika_ temple/saraswa.html http://www.stilltasty.com/ http://lokakshema.webduniya.com Royal National London
Royal National hotel
http://picasaweb.google.com/lh/photo/60zW28Bt0yMKF4esQAoxlg?feat=directlink Search Engine Submission - AddMe Royal National London